Polygon has launched an $200 million initiative to fund three-year projects involving web3 and blockchain technology. The company is seeking startups, organizations, universities and art studios that will work on a variety of different ideas in the coming years.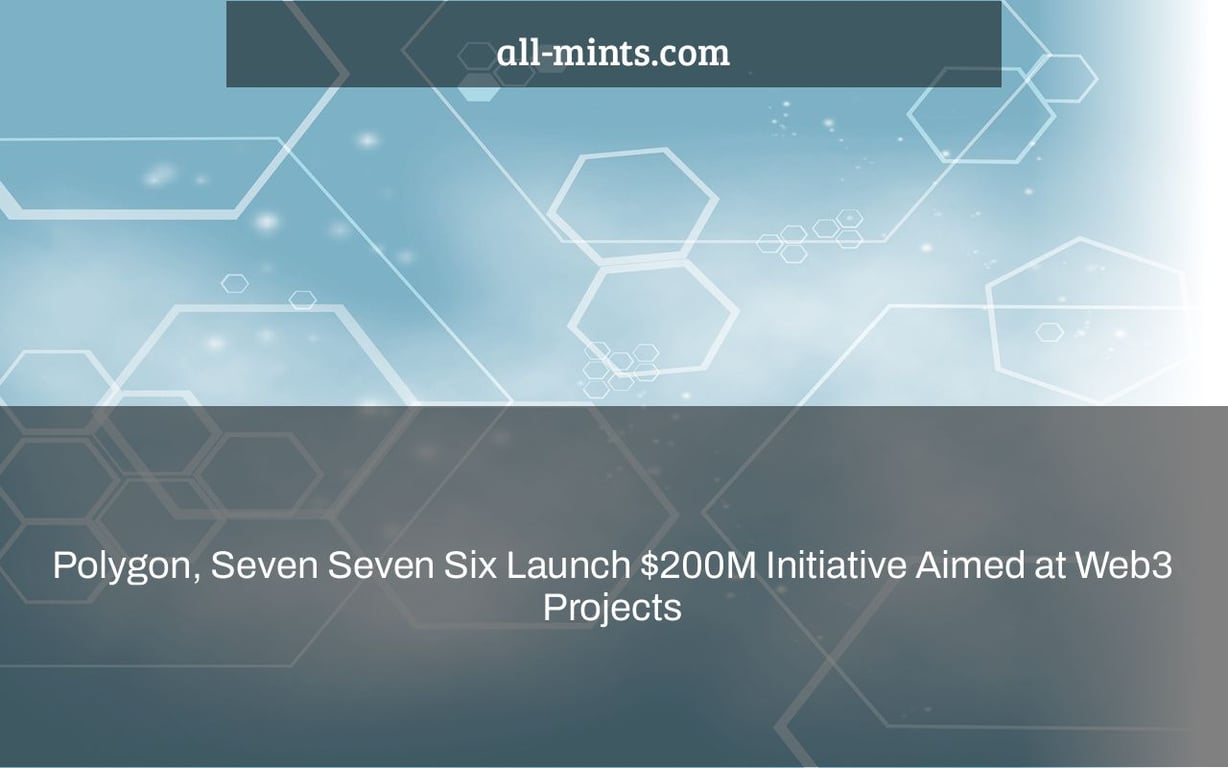 Seven Seven Six, a venture capital firm located in the United States, has partnered with Polygon, an Ethereum scaling and infrastructure development platform, to establish a $200 million fund to invest in Web3 social media and gaming businesses.
Seven Seven Six made the news via a series of tweets.
"We're thrilled to share the news of our $200 million joint venture with @0xPolygon. One of the tweets said, "With Polygon, we'll explore better methods for people to digitally interact by financing initiatives created with social media and Web3 in mind."
The fundraising program, according to the latest reports, is denominated in dollars.
Internet that is both fair and secure
One of the initiative's key aims is to build a fair internet where people have control over their personal information and privacy.
Alexis Ohanian, cofounder of Seven Seven Six, acknowledges that Web3 is still in its infancy and that gaming and social media have a lot of promise.
"With a focus on gaming assets and social media platforms built on Polygon's scalable infrastructure, this venture will deliver precisely that," Ohanian added.
Polygon's Past Performance
Polygon is a layer two scaling project that was launched in 2018 as an Ethereum scaling and infrastructure development platform. It now hosts over 1,000 apps and has handled over 600 million transactions. It also has over 60 million user addresses and $5 billion in assets under management.
Polygon SDK, the platform's main component, is a framework for creating and linking Secured Chains and Standalone Chains.
Polygon was "ecstatic to have Alexis as a partner in this endeavor, who provides an unparalleled mix of significant industry knowledge, great investment track record, and values that closely coincide with those of our community," according to the company.
"(Seven Seven Six) already has a diverse portfolio that includes DroneSeed, a drone-based reforestation company, and Sky Mavis, the creators of Axie Infinity, the first Play-to-Earn Web3 gaming franchise, as well as Better Brand, which is transforming the most carb-heavy foods into the least, and Stoke Space, a reusable rocket company."
Sandeep Naiwal is a Polygon co-founder.
"In recent years, it has become clear that social media business strategies have a significant influence on our world. Users generate value, govern the network, and enjoy the benefits with Web3, according to Naiwal. "This isn't simply another means to distribute lolcats on the internet, though we like them as well. We're developing new high-fidelity methods for conveying culture."
Polygon and technological innovation company Lumos Labs announced another agreement earlier this month. The PolygonLEAP Accelerator 2021 is a collaboration between the two companies to help Indian businesses in the Web3 space.
Polygon partnered with betting business DraftKings in October to promote NFT and Web3 adoption via the DraftKings Marketplace.
Polygon just paid $400 million for Ethereum scaling company Mir Protocol.
Watch This Video-